Our Vision & Mission
Home
Our Vision & Mission
Air Transportation
---
Air transport connects Sri Lanka to cities around the world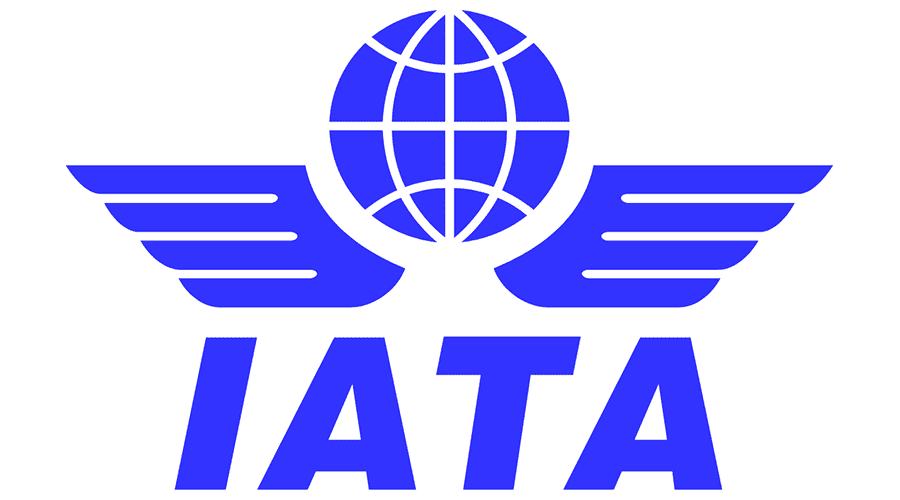 Air transport generates benefits to consumers and the wider economy by providing speedy connections between cities. These virtual bridges in the air enable the economic flows of goods, investments, people and ideas that are the fundamental drivers of economic growth.
Map of Sri Lanka's air connectivity, by its largest markets (segment basis) 4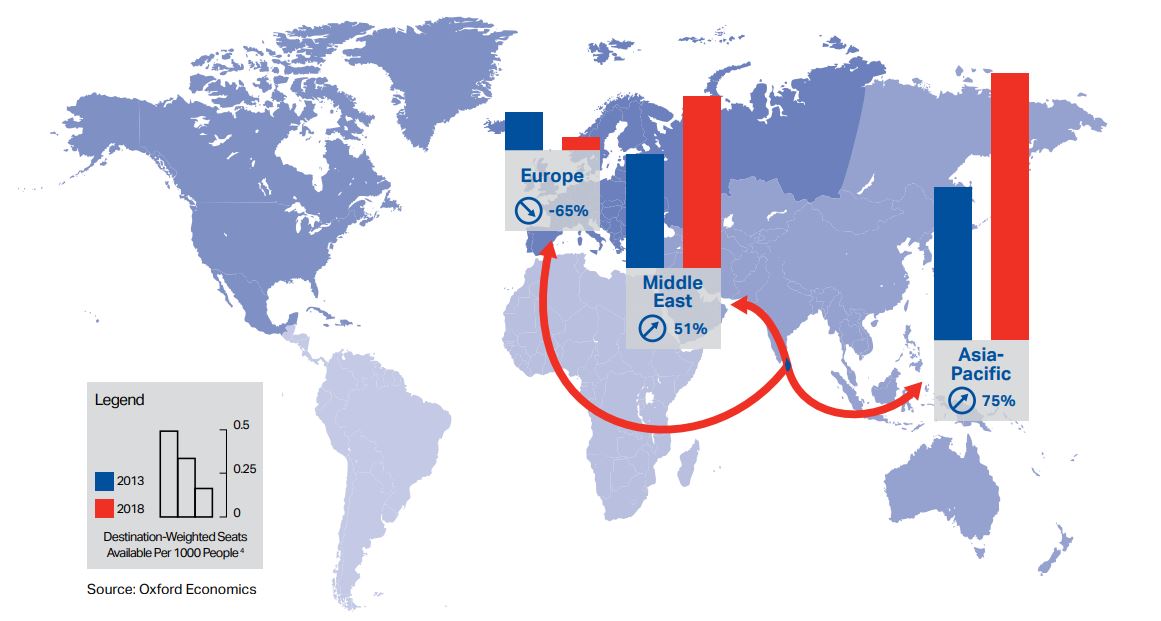 IATA's measure of how well a country is connected to economically important cities around the world is shown above. The map shows Sri Lanka's
Number of international city pairs direct service in the top ten countries by passenger numbers in the world 5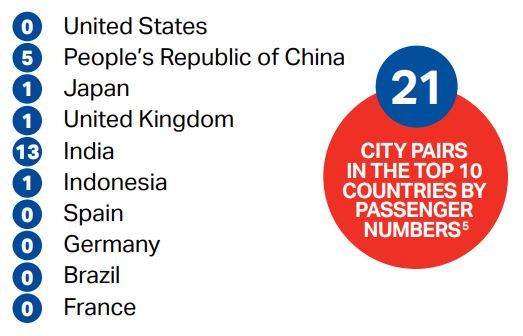 connectivity by key regions of the world and its evolution. Sri Lanka's connections to Asia-Pacific have grown the fastest over the five past years.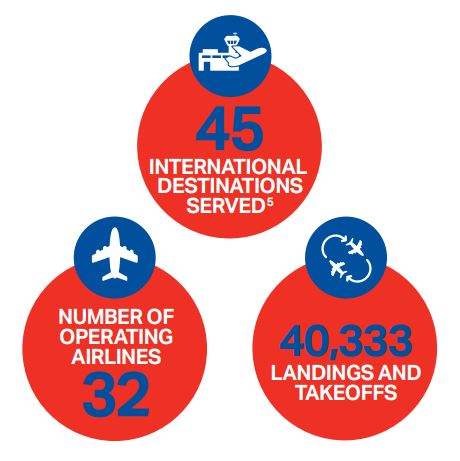 Sri Lanka's traditional gateway, Bandaranaike International Airport (BIA), located 22km north of Colombo, has a design capacity of six million passengers per annum. The 4.2 million air passengers handled by BIA in 2009 rose to 7.3 million by 2013 - a significant and rapid growth. BIA plans to increase the passenger capacity by another nine million, thereby increasing the airport's capacity to 15 million by the end of 2017.
MRIA, the second international airport located in the south of Sri Lanka, is already handling one million passengers and plans to add up to a further five million in capacity, which would ensure Sri Lanka had an overall international air passenger handling figure of more than 20 million by 2020. The present annual combined cargo throughput of the two airports would also be increased to 450,000t during this period.
Sea/air cargo is a key form of bimodal transportation of cargo or freight is carried by ship or air craft to an intermediate point and then switched or transshipped as air carriage or vice versa.
Currently, a small volume of sea/air cargo is carried from Bangladesh via Sri Lanka to Middle East/European countries. However, given the geographically favourable location of Sri Lanka, coupled with the transshipment facilities from the BIA to the Colombo Port, and from the MRIA to the Hambantota Port and the highway linkage, it can play a vital role in the development of sea/air cargo and business.
However, authorities should offer incentives pertaining to the handling charges both at the MRIA and Hambantota Port.
For the country to become an air/sea hub to the world, both air freight and sea freight capacity have to be expanded in imports & exports of Sri Lanka.
The biggest opportunity for the country to expand air cargo capacity is the MRIA and in sea cargo Hambantota sea port.
Manual and automated airport can be positioned lower in handling charges compared to the BIA and other airports in the region, there will be a great opportunity to motivate the freighters, both scheduled and charter operators to operate to the MRIA.
If large cargo carriers are attracted to the MRIA, small shipments can be carried by air or sea from countries in the catchment area such as India, Bangladesh, Pakistan and Vietnam and then consolidated at the MRIA to be outbound as large shipments.
Air cargo
The majority of air cargo is carried to and from Sri Lanka via the BIA, predominantly, by passenger aircraft. There is a major disadvantage in cargo being carried on passenger aircraft; apart from a restriction on cargo volumes, passenger aircraft have no choice but to operate to airports which are convenient and popular with passengers. The handling charges at these airports may not be favourable for air cargo. For profitable air cargo operations/business, low cost airport handling charges are crucial.
The MRIA has the potential to develop the air cargo market by attracting freighters operating on scheduled or charter basis. As a medium-sized, semi-automated airport, it has the opportunity to offer competitive handling rates.
Increased air cargo capacity to and from the MRIA will have the dual advantage of developing air to air transshipment cargo and newly proposed sea air cargo services using the MRIA and Hambantota Port as the nucleus.
Enhanced availability of air cargo space at the MRIA will be of immense help to promote export cargo such as agricultural produce (vegetables and fruit) and fisheries products from Sri Lanka
SEA Transportation
---
Sailing to Galle
For the Dutch East India Company (VOC), Galle was a key trading hub, second only to Batavia. The warehouses were packed with trade items from all parts of Asia. Fleets of ships came to Galle each year for trade, supplies, and repairs. Evidence of the complex organization behind these maritime activities is to be found in the many surviving Dutch buildings in Galle, the extensive historical archives in Colombo and the Netherlands, and the wrecks of five Dutch East Indiamen in the Bay of Galle.

Galle was also an important staging post. Some ships sailed directly between the Netherlands and Batavia, but others stopped at Galle. The larger VOC ships called only during the NE monsoon (Oct-April). Smaller vessels could also use the harbour during the SE monsoon, although the seas are then rougher.
Ships normally arrived from the Netherlands in October-November, before going on to Batavia. They left Sri Lanka for the Netherlands either in November or in February. The timing was partly to take advantage of favourable trade winds, but the ships also travelled in convoy for self-defence.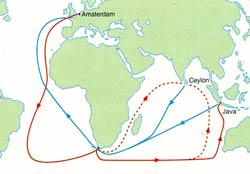 Trade routes and the various types of ship
Important trade items included textiles, pepper and yarn from South India; cinnamon, cardamon, pearls, gems, and elephants from Sri Lanka. Some of the local products were exported only short distances (eg elephants from Sri Lanka to India), while others travelled further afield. Textiles were important in the trade to other parts of Asia, while most of the cinnamon was exported to Europe. The VOC were active in all of these trades, with an appropriate variety of ship types - as can be seen in the wrecks in Galle harbour.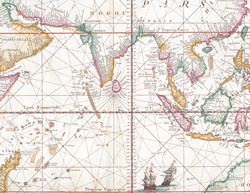 Against a transformative and competitive regional backdrop, Sri Lanka aspires to become South Asia's logistics hub. The leading impetus to this ambitious vision is Sri Lanka's National Export Strategy (NES); and its prominence to the logistics industry. Directly employing roughly over 50,000 people industry-wide, the sector has an ambitious vision to grow from a traditional transshipment hub to a regional logistics center. Recognized as one of the fastest-growing transshipment hubs in the world, Sri Lanka offers a unique package of innovative multi-modal logistics services.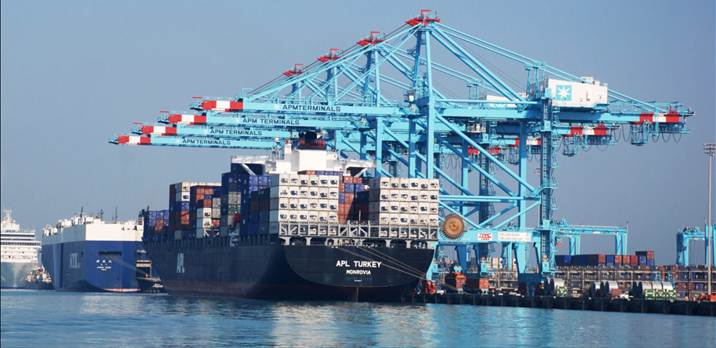 Sanctioned by the NES as a priority action item, is a dire need for accurate logistics industry data. Spearheading a project to accommodate this national demand is the Department of Census and Statistics (DCS) and The Export Development Board (EDB); along with technical input from the EDB's Advisory Committee on Logistics. Collaboratively, the stakeholders will front an activity to establish a special data unit at the DCS to gather and analyze logistics sector data, with the prospect of determining the economic contribution of logistics to Sri Lanka's economy. Contemporary industry data can also raise the possibility of positively influencing the Logistics Performance Index (LPI). The LPI is a tool widely used in global logistics research for country benchmarking, comparison, and as a mechanism for analyzing intra-country logistics performance. Sri Lanka currently ranks at 94, among 160 nations.
In a highly competitive industry, logistics market giants confront stiff competition on pricing and speed. As such, industry leads traditionally guard their fleet data from the prying eyes of competitors. Given this backdrop of data sharing insecurity, a state-led national initiative, spearheaded by the DCS and EDB is bridging a gap to foster a collaborative atmosphere of transparent data sharing; between the industry and government institutes. The value addition of this project will undoubtedly spill over to the private sector. When the macroeconomic broad strokes are canvassed, service providers will be capacitated to pursue more data-driven decisions. www.srilankabusiness.com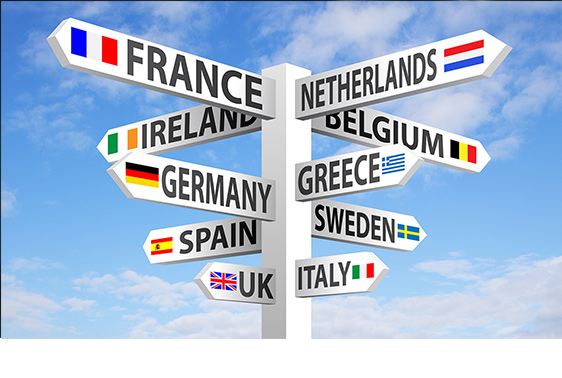 OUR VISION
Be the trust worthy efficient service provider in International Courier and Freight industry with Sri Lankan traditional hospitality.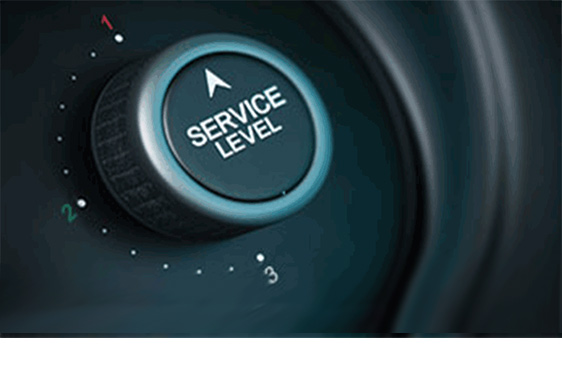 OUR MISSION
Create an international air and sea service hub in Sri Lanka to serve the world.
All your Local Pickup Requests Call Us: +9471 422 411 5
International Pickup requests write Us: arrowexpress@sltnet.lk